The California we are losing: Views of our golden state's transition from pristine to imperiled
Every day we hear from Californians like you who are proud of, and cherish the beauty of, our "Golden State." In the same breath, we also hear your deep sense of loss and a shared conviction that we must stop the relentless population growth degrading our quality of life.
CAPS listened. In response, we've launched a "then and now" project, "The California We Are Losing: Views of Our Golden State's Transition from Pristine to Imperiled." Now, we need your help.
The goal of this project is to increase awareness about relentless population growth's long-term effects on special places near and dear to our hearts. We hope that a visual juxtaposition of yesterday's and today's changed landscapes will help inspire public action to help save our Golden State from further irreversible environmental degradation. Previous "then and now" projects have rarely touched on the driving issue – population. CAPS will be among the first to focus on the more honest, and actionable, prism of population growth.
Your memories and personal/family archives are needed to illustrate the changes in our state's special places through the 20th century to today. Please send CAPS your photos and/or memories of special places you love, with evidence of how they have changed.
Please forward your submissions to CAPS in one of the following ways:
Email info@capsweb.org (please attach photos in jpg format).
Mail to: CAPS, 1129 State Street, 3D, Santa Barbara, CA 93101 (please include your name and address on the back of any photos so that we may return them to you).
Your materials may be featured on the new CAPS website launching soon, in a documentary on YouTube and/or through CAPS' social media outlets. Funding permitting, we may develop a television campaign to elicit more interest, action and support.
Thank you for joining us help a place we so dearly love.
Claremont, Then and Now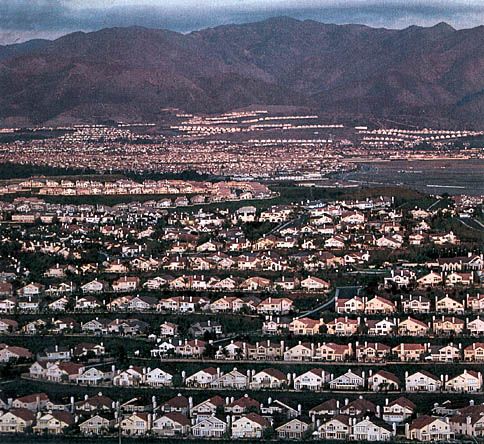 Dreaming About Lost Orange Groves
On the way to Claremont, there is an abandoned orange grove, weeds almost as tall as the trees are, growing between the ranks of the trees. For five years now I have looked at them – tried not to look at them – as I drive past. One day they will be cleared, and a shopping mall or condominiums will take their place. Meanwhile, they stand, in hopeless rows, gray and dead. – M.S., 1986